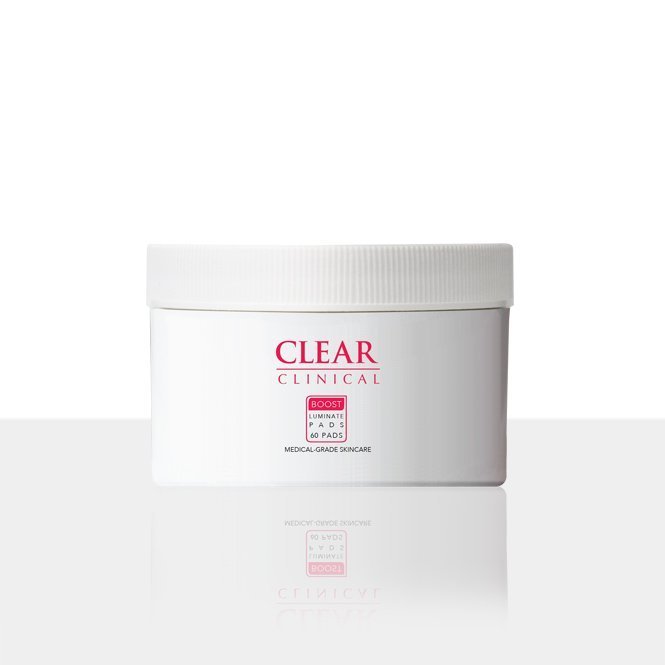 Topical Serums
Luminate Pads
$250.00
60 Pads

Compounded treatment pads that contain a powerful combination of active ingredients which act together to help even skin tone, inhibit pigment production and lighten hyperpigmented patches.
4% Arbutin, 2% Kojic Acid & 6% L-ascorbic acid act to inhibit pigment formation.
Reveals fresh, healthy looking skin.
Helps to fade discoloration of the skin.
Contains enzyme activated Arbutin for enhanced brightening.
Salicylic Acid boosts penetration.
Compounded freshly on dispensing for optimal potency.
INSTRUCTIONS FOR USE: Use 1-2 times daily or as instructed.  Smooth pad over areas to be treated.
CAUTION: For external use only.  Use only as directed.  Discontinue use if irritation occurs.  Avoid direct contact with eyes.  Keep out of reach of children.
SKIN TYPES: Mature | oily | acne prone | photo-aged
Description
4% Arbutin: An extract of the Bearberry plant which contains pigmentation and whitening agents. Arbutin protects the skin against damage caused by free radicals and inhibits the formation of melanin pigment.
2% Kojic Acid: Used as a skin toner and lightener. By inhibiting melanin production, it effectively helps to balance skin tones, fading dark spots and freckles caused by sun exposure, aging, and cutaneous hyperpigmentation.
6% L-ascorbic acid: Vitamin C contributes to strengthening the collagen framework and maintaining a healthy dermis. Topical application of Vitamin C has been shown to provide anti-oxidant protection, lighten skin, boost collagen production and reduce the appearance of fine lines and wrinkles.
1 % Salicylic acid: A Beta-Hydroxy Acid that causes skin cells to shed more readily, opening clogged pores and neutralizing bacteria; can also constrict pore diameter; provides a hostile environment for bacteria growth. It is also beneficial for minor lightening of discoloration or hyperpigmentation that result from the acne.
Evodia fruit extract: A plant used in traditional Chinese herbal medicine for its anti-inflammatory and skin soothing properties.
---
Only logged in customers who have purchased this product may leave a review.